Mini Split
WindFree 2.0 E Mini Split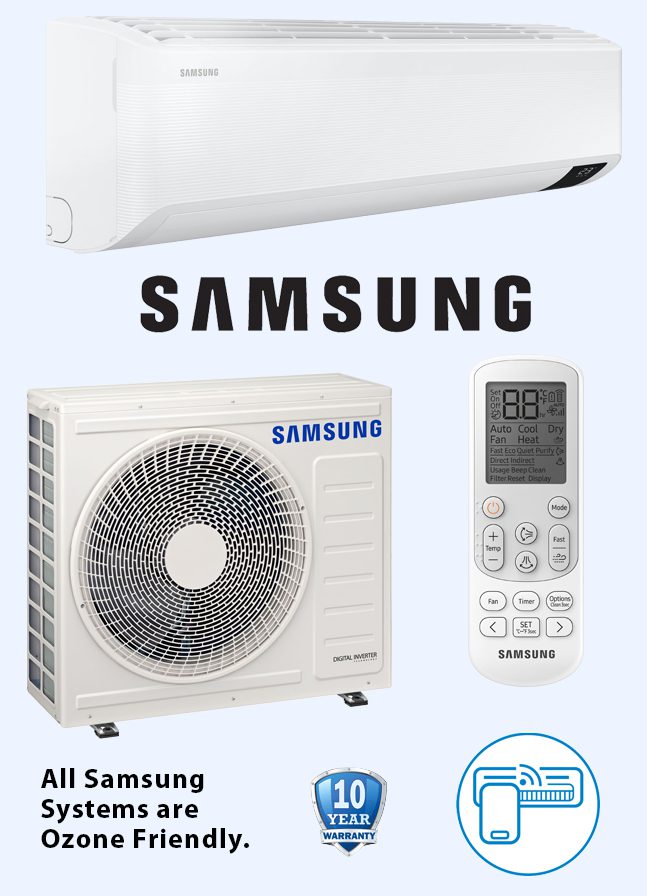 TOTAL CONTROL – Our Quantum 2.0 unit comes with built-in Wi-Fi, allowing voice control with Bixby 2.0 & monitoring from anywhere with an internet connection through Samsung's SmartThings app. Users can remotely regulate temperature, adjust settings, receive real time updates about performance & daily energy usage, as well as troubleshoot solutions when a repair is needed.

INTELLIGENT – AI Auto Mode monitors factors such as indoor temperature, outdoor temperature, set temperature, & operating time to learn the patterns within your home to automatically adjust system operation to maximize occupant comfort.

HIGH PERFORMANCE – The Digital Inverter compressor's variable speed control allows the compressor to operate at precisely the speed needed to maintain the set temperature without turning the system on & off.
10 Year Compressor Warranty
10 Year Parts Warranty
1 Year Labor Warranty
1 Year Full Replacement
Warranty is 100% Transferable
Available capacities: 9,000 / 12,000 / 18,000 / 24,000 Btu
Call Today For A Free In Home Estimate.

Best Price Guarantee • 10 Year Warranties • Free Estimates • Simply, Easy Financing